Fukushima Contaminants
On March 11, 2011 a 9.0-magnitude earthquake triggered a 15 m (45 ft) tsunami inundating the Fukushima Dai-ichi Nuclear Power Plant (FDNPP). This caused a loss of power, explosions and  multiple reactor meltdowns followed by the release of radioactive materials to the atmosphere. Over 80% of this fallout occurred over the ocean, with highest volumes close to the plant. There was also a discharge of contaminated cooling water into the ocean, making this FDNPP disaster the largest accidental input of radionuclides to the ocean. Since then, our lab has been working to understand the fate of these radionuclides in the ocean. To date we have participated in 8 research cruises off Japan (as of 2020) as well as numerous other samples taken all over the Pacific Ocean and western coast of the United States on various cruises, by citizen scientists
First Research Cruise KOK 2011
The need to understand the amount, type, and fate of radioactive materials released prompted a group of scientists from the U.S., Japan, and Europe to organize the FIRST multi-disciplinary, multi-institutional research cruise in the northwestern Pacific following Fukushima funded by the Gordon & Betty Moore Foundation.
Read more about the science and life aboard on the KOK 2011 Fate of Radionuclides Cruise. The essential components of the program include: radionuclide measurements of water and particles; a radioecological study of biota, especially species at the base of the food chain and key fish species and a physical oceanographic study to characterize transport and water masses. Three hundred sampling events took place at thirty major stations for a total of more than 1500 samples.
Data and subsequent research following this cruise was approved for a special issue of Biogeosciences "Impacts of the Fukushima nuclear power plant discharges on the ocean." These publications are included below under "Research Papers."
Subsequent Sampling & Cruises

After the initial cruise, Café Thorium has worked with Japanese collaborators and been lucky to collect samples on 8 additional cruises around Fukushima as well as on beaches in the area. Samples have also been collected at more distant locations in the Pacific and on the shores of North America to not only quantify the release but also track water bodies and the spread of radionuclides in the ocean. Results from these collections can be found on Our Radioactive Ocean (see more information below), in publications or in links provided.
Tunsei Maru May 2012
Umitaka Maru May 2013
r/v Melville March-June 2013 (PO2 line Go-SHIP aka CLIVAR program)
Daison Kaiyu Maru Sept. 2013
Shinsei Maru May & Oct. 2014, Oct. 2015, Nov. 2016, Oct. 2018, Oct. 2020
Citizen Science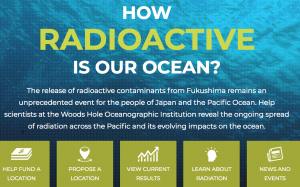 In the time since the FDNPP accident it has come to light that there is a gap in oversight for monitoring nuclear contaminants in the ocean. While the Gordon & Betty Moore Foundation and NSF funded the initial cruise described above, no funding could be found to monitor the coasts of North America for the inevitable arrival of radionuclides from Fukushima Dai-ichi. For this reason the program Our Radioactive Ocean commenced in 2014. A crowd funded program that enlists citizens or groups to fund-raise, take a water sample at a location of their choice, and have it analyzed by Café Thorium. This program, described at OurRadioactiveOcean.org has so far collected almost 200 samples and filled a vital gap for understanding the fate and concentrations of radionuclides in the environment.
Tracing Ocean Currents
From sampling we know that radionuclides coming from the Fukushima Dai-ichi Power Plant include cesium-137, cesium-134, strontium-90 and iodine-129. These naturally decay over time and have varying half-lives (the time it takes for half of the material to decay), with cesium-134 being the shortest at ~2 years, Cs137 at ~30 years, Sr90 ~29 years and I-129 at 15.7 million years.
We know where these elements are coming from, and so, by taking water samples through the column we can make predictions about how ocean currents move and how water bodies mix together. Details on this project can be found at Fukushima Tracers.
Further Reading
The last 9 years of research surrounding the accidental release from the Fukushima Dai-ichi nuclear power plant has led to numerous publications, op-eds, news articles, interviews and documentary films. Below are some of these articles. Click on the type to expand the section.
Photo Gallery
Beach Sampling 2018 - South of Fukushima Dai-ichi Nuclear Power Plant (Japan)
On This Page
First Research Cruise
Cruises and Sampling
Citizen Science
Tracing Ocean Currents
Further Reading
Download our Guide to natural and human-caused sources of radiation in the ocean! Available in English and Japanese!
Recent Publications
Buesseler, K.O. (2021) Comments on Nov. 2021 Radiological Impact Assessment (RIA) Report pdf (TEPCO Japan). Find the original TEPCO press release and Assessment document HERE.
Buesseler, K.O. (2020) Opening the floodgates at Fukushima. Science, 369(6504), 621-622. DOI: 10.1126/science.abc1507.

Kenyon, J.A., Buesseler, K.O., Casacuberta, N., Castrillejo, M., Otosaka, S., Masqué, P., Drysdale, J.A., Pike, S.M., Senial, V. (2020) Influence of natural and anthropogenic events on the distribution and evolution of seawater surface concentrations of Fukushima Dai-ichi derived 137Cs, 90Sr, and 129I off the coast of Japan. Environmental Science and Technology, 54(23), 15066-15075. DOI: 10.1021/acs.est.0c05321.
Macdonald, A. M., S. Yoshida, S. M. Pike, K. O. Buesseler, I. I. Rypina, S. R. Jayne, V. Rossi and J. Kenyon, Drysdale, J.A. (2020). A Fukushima Perspective on Four Years of Mode Water Evolution (PDF) Deep Sea Research Part I, 166, 103379. DOI: 10.1016/j.dsr.2020.103379

Nagao, S., Terasaki, S., Ochiai, S., Fukushi, K., Tomihara, S., Charette, M.A., Buesseler, K.O. (2020) Desorption behavior of Fukushima-derived radiocesium in sand collected from Yotsukura Beach in Fukushima prefecture. Analytical Sciences, 36, 569-575.
Funding
Funding for this project has come from a variety of sources and includes the  Gordon and Betty Moore Foundation, the National Science Foundation, The Deerbrook Family Trust and many private individual donations through Our Radioactive Ocean.
Collaborating Projects
Tracing Fukushima - Led by Alison MacDonald (WHOI) this project uses the radioactive particles from the Fukushima accident as tracers to study the pathways and mixing of water in the North Pacific Ocean.
Fukushima InFORM - The Integrated Fukushima Ocean Radionuclide Monitoring or InFORM network involves academic, government, non-governmental organizations and citizen scientists working to acquire data, assess radiological risks to Canada's oceans associated with the Fukushima nuclear disaster
Hawaiʻi Radioactivity after Fukushima - Results of a study of surface seawater collected in the North Pacific Ocean 1.5 years following the Fukushima Dai-ichi nuclear power accident to monitor dispersion patterns of the radionuclides.