Lingering Radioactivity in the Marshall Islands
The Marshall Islands, a series of remote atolls in the Southern Pacific Ocean were used as ground zero for the testing of nuclear bombs by the US Government Department of Energy. The remote islands, at the time a US protectorate, saw 66 tests over 12 years starting in 1946. With a combined total explosive power of 100Mt many long- and short-lived radionuclides soon contaminated in the ocean and soils on and around the tropical islands. Café Thorium visited these islands in 2015 to track the fate of some of these.
Following nuclear testing, perhaps not surprisingly, the islands were evacuated due to the health hazards associated with radioactivity found there. In 1977 an effort to decontaminate the islands began. The US Military mixes more than 111,000 cubic yards of contaminated soils and debris from the various islands with cement and buried it in a 30 ft. deep, 350 ft. wide bomb crater on Enewetak island. Dubbed the Runit Dome they then enclosed it in cement, however the bottom is not sealed resulting in tidal waters moving through the material.
Work on the islands involved testing groundwater, seawater and sediments for a variety of radionuclides.
Read more about recent work in the Marshall Islands: Putting the 'nuclear coffin' in perspective: Marine chemist weighs in on leaking radioactive dome in the Pacific. Evan Lubofsky, August 13, 2019.
Read about the history and science in this Oceanus article: Back to Bikini: Scientists study lingering radioactivity of 1946-1958 nuclear weapons tests. June 5, 2017.
Where are the Marshall Islands?
Watch this VIDEO produced about this research:
Collaborators
Matthew Charette (WHOI)
Marshall Islands Expedition book (PDF)
A science writer accompanied this expedition and documents  the cruise. A PDF of this book is available here for download or just click on the image.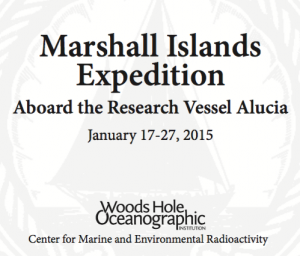 Funding
Funding for this project was provided by the Dalio Foundation and the Center for Marine and Environmental Radioactivity.