VERTIGO - Ocean Particle Fluxes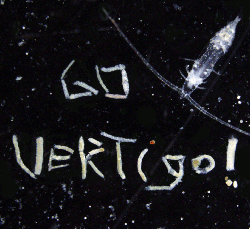 VERtical Transport In the Global Ocean- aka VERTIGO- was one of our largest and most exciting projects. As its name implies, this study looks at how materials get from the surface to the deep ocean. In fact, there are really only two ways to get there- either with ocean currents that sink to the deep ocean, but that takes place only in a few regions near the Arctic and Antarctic, or hitching a ride on sinking particles, and it's the sinking particle story that VERTIGO is all about.
How do marine plants and animals create and destroy particles in the ocean? How quickly do particles sink? How deep do they go? Are all marine particles the same? And what is the marine "snow" forecast? Many basic questions such as these will be addressed by this international and interdisciplinary team of ocean scientists.
The Proposal
If you'd like to see what we promised NSF you can download a full copy here (pdf)
The VERTIGO Cruises
This project had a series of cruises to collect data and test instrumentation. Each of these are described in GREAT detail on their respective pages below. Follow the Blog to learn more about what went on on these cruises!
January 7 - 13, 2004; Honolulu to Honolulu - Testing equipment on a Honolulu to Honolulu cruise aboard the research vessel Kilo Moana. The expedition is described by reporter Peter Spott from the Christian Science Monitor "Voyage to ocean's 'Twilight Zone,' Feb. 12, 2004.
June 20 - July 9, 2004; Honolulu to Honolulu - Chasing ocean particles (link to cruise page)
A webpage for VERTIGO cruise updates from our work on the University of Hawaii research vessel Kilo Moana and provide general information about our project. The site we went to north of the island of Oahu, is one of the most intensively studied pieces of ocean real estate. It is the location of the U.S. Hawaii Ocean Time-series (HOT) program where for the past 16 years marine scientists have been studying the ocean and the seasonal cycles of marine plants and animals, and how they impact the chemistry of the waters they live in. This page includes information about the ship, science and a DAILY BLOG.
July 21 - August 27, 2005; Yokohama Japan to Honolulu -"K2" Search for HIGHER particle Fluxes
VERTIGO scientists headed to the cold and nutrient rich waters in the NW Pacific in search of a region where particle fluxes out of the surface ocean are thought to be among the world's highest. A site called "K2" was chosen for our second major research expedition, since this is where the Japanese already maintain deep ocean sediment traps which capture sinking particles below the "twilight zone" where VERTIGO scientists will be working. At "K2" the High Latitude Time Series (HILATS) Observatory program has been in place only since 2001. More HERE.
Neutrally Buoyant Sediment Traps a SUCCESS!
On VERTIGO we used open ended cylinders designed around a neutrally buoyant float to collect particles sinking in the ocean. These drift with currents and opens up a new window to study more accurately the rain of particles out of the upper ocean, which is a key pathway that links the surface ocean to deep waters. Read more about these oceanographic research instruments.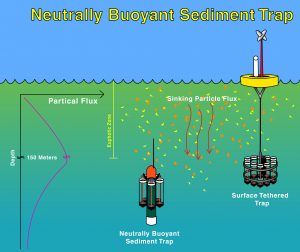 Some Publications and News Releases
Revisiting Carbon Flux Through the Ocean's Twilight Zone published in April 2007 (K.O. Buesseler, C.H. Lamborg, P.W. Boyd, P.J. Lam, et al.)
A Journey to the Ocean's Twilight Zone (pdf) (Oceanus, 45(2), 2006)
A conversation with marine biogeochemist Ken Buesseler: A torrent of particles rains down through the ocean's dimly lit regions, providing food for organisms below and sequestering some heat-trapping carbon dioxide from the atmosphere. A WHOI biogeochemist investigates what makes it into the ocean's twilight zone and what makes it out.
Swimming in the Rain (Oceanus, 45(2), 2006)
Novel untethered vehicle catches 'marine snow' falling through the sea: At first, critics said it shouldn't be done. Then they wondered whether it could be done. Finally, WHOI scientists and engineers built an innovative device to capture a fundamental but still mysterious ocean phenomenon.
VERtical Transport In the Global Ocean Poster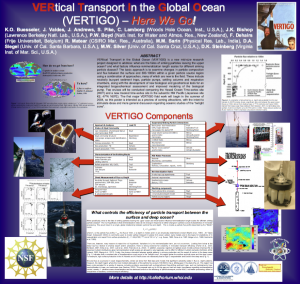 from ASLO, Buesseler et al.
Data Collected
Data collected on this cruise is available for download from the BCO-DMO website at the following project webpage: VERtical Transport In the Global Ocean. Data is found at the bottom of the page under "Dataset Collections." Included are maps of sampling stations as well as all results form collected samples.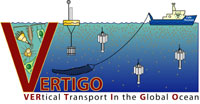 Funding Agencies
We gratefully acknowledge the support of the National Science Foundation Grant No. OCE-0301139 in collaboration with the Antarctic Climate and Ecosystem Cooperative Research Center, the U.S. Department of Energy, the Woods Hole Oceanographic Institution and the Fund for Scientific Research - Flanders (Belgium).