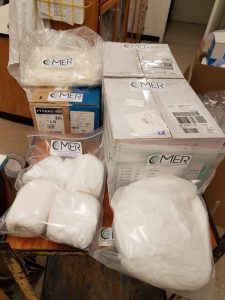 Despite the fact that the Institution has been virtually shut down during this health crisis…
Ocean Encounters: Radiation: In our ocean, our planet, and our lives
Watch a recording of Ocean Envounters from Wednesday March 24th.
We live on a radioactive planet. With the 10th anniversary of the accident at the Fukushima Dai-ichi nuclear power plant in Japan, we take a look at the radiation all around us—its natural sources, its human applications, and their impacts on us and our environment.
Fukushima Dai-ichi and the Ocean: 10 Years of Study and Insight
Watch recordings of this event! The events in Japan that began on March 11, 2011, with the country's largest recorded earthquake and a tsunami of remarkable power, led to releases of radioactive materials from the Fukushima Dai-ichi Nuclear Power Plant that continue today. For humanity and for the oceans, the magnitude, composition, and variety of releases that have occurred over the past 10 years have been unprecedented, and the lessons we continue to learn resonate around the world.